ORGANIC VIRGIN
OLIVE OIL
Organic virgin olive oil is pure organic olive juice obtained via centrifugation processes and is not subject to refining processes.
With a fluid texture at room texture, organic virgin olive oil is an oil with a uniform appearance and a much more bitter and spicy flavour thanks to the antioxidants and polyphenols it contains. It has a maximum acidity of 2ºC.
Thanks to its characteristics, organic virgin olive oil is perfect for use in organic products like dressings, mayonnaises and other sauces. It can also be used in frying, as undergoes less degradation at high temperatures than other oils.
Oil derived from organic agriculture in accordance with EU Regulations (834/2007, 889/2008 and subsequent amendments).
✓ Best consumed within 12 months after the product's packaging date.
✓ No allergenic ingredients according to current legislation.
✓ This product is not of genetically modified origin (GMO).
✓ This product complies with the requirements of applicable European and national legislation.
WRITE TO US
AND WE'LL HELP YOU
Leave your message and we'll get back to you as soon as possible.
RELATED
PRODUCTS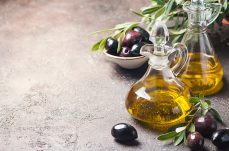 At Casado Grupo, we have been specialising in the food industry for over 35 years, producing, packaging and distributing a wide range of raw materials and products for the food industry.
Accompanying our products from the source, we package our clients' products with a wide range and various formats of packaging adapted to the latest market requirements and trends, to increase the competitiveness of their products and offer our clients savings in terms of their investment in machinery and its maintenance, as well as stock reduction and increased quality.
We deliver our products quickly and securely with the highest quality standards, because our clients' satisfaction is at the heart of our success.
We guarantee compliance with all food-industry legal obligations and remain constantly up to date with all legal requirements in order to offer the best service. The purchase of raw materials and our cooperation with our logistics partners and suppliers is based on a long-term relationship of trust.